a few new and old songs:


'Loose Lips' by Kimya Dawson.
Most people know this song from the movie 'Juno'. Know for her childish voice, and catchy chorus', Dawson is an artist whose music is unique and the true definition of indie music.
'they think we're disposable? well both my thumbs opposable!
spelled out on a double word and triple letter score an'
'Pen and Paper' by The Red Jumpsuit Apparatus
. The new single by RJA released a couple of days ago is a preview of their new and upcoming album 'Lonely Road' (due for release feb 3rd). For those familiar with RJA old music, they will find (as I did), that this new single sounds quite bland and boring. Its got a steady rock beat, catchy chorus but its nothing that hasn't been heard before. Comparing this song to their old hits such as 'Face Down' and 'Guardian Angel', it is evident that RJA should stick to their old style of music rather then venturing into a music which lacks the core and depth they previously had.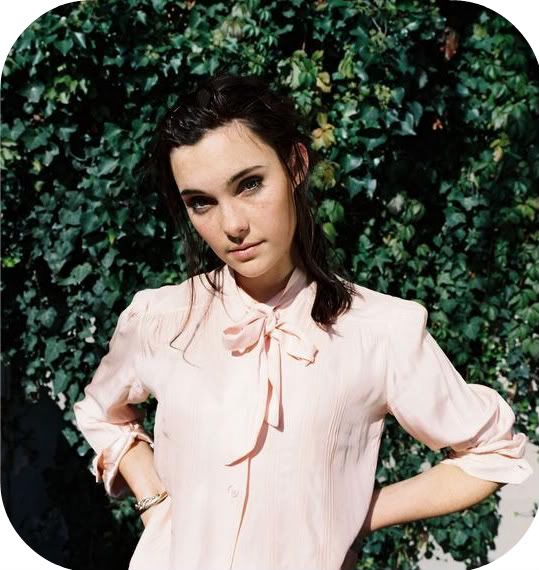 'Stevie' by Lisa Mitchell.
Since her appearance on Australian Idol, Lisa Mitchell has accomplished and established a name for herself in the folk music genre. Her airy, angelic voice sounds perfect with her meaningful and unique lyrics With her new single 'Stevie', we get a glimpse into what we will see on her debut album 'The Attic Space'.
I can't wait :)

Download 'Stevie' for
free from the triple j website http://www.abc.net.au/triplej/listen/mp3s.htm.


'Dying is fine' by Ra Ra Riot.
Rolling Stones magazine called them the 'best indie rock band debut' of the year. They sound similar to Vampire Weekend, but these guys sound a bit more mellow and almost a bit more 'darker'. What I mean by darker is that most of their songs deal with the theme of death but at no means am I suggesting that this is an 'emo' band or such. They have the perfect mix of indie, rock and pop. Also listen to 'Can You Tell'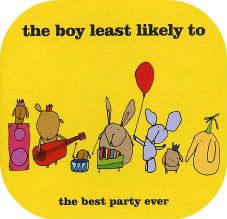 'Be Gentle With Me' by The Boy Least Likely To.
How can you not like this song? It is so bubbly, cute and fun. Plus it is majorly catchy. To describe this song you would basically say it sounds like a cute, fun, childish tune! This song is from 2005, but I only stumbled on this by chance. Definitely check out this song. (Even the album cover is cute!)
New albums:
Folie a Deux- Fall Out Boy

This is a pretty good album by FOB. With stand out hits like 'American Suitehearts' and 'I Don't Care', this album follows their typical music style; a solid pop/rock beat with witty lyrics and song titles. The album comes with several bonus tracks such as an acoustic version of 'American Suitehearts', some remix's of several songs and their take on the classic Michael Jackson song 'Beat It'.
My personal favorites would have to be '20 Million Dollar Nose Bleed', 'The Shipped Gold Standard' and 'Coffee's For Closers'.

Overall it is a really catchy and typical FOB album; but nevertheless this album doesn't really compare to their old stuff. 3.5 out of 5


Out of curiosity, I looked up the meaning of the title 'Folie a Deux'.
Folie à deux (literally, "a madness shared by two") is a rare psychiatric syndrome in which a symptom of psychosis (particularly a paranoid or delusional belief) is transmitted from one individual to another.
Thanks wikipedia.
When The World Comes Down- The All-American Rejects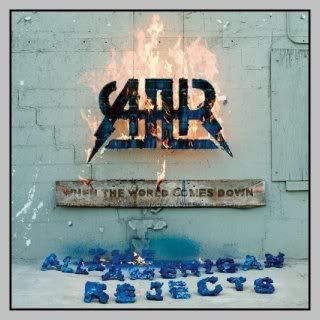 Words can not describe the excitement when I purchased the new album by AAR. I LOVE this band so much. After listening to this album several times, my excitement was placed on a sudden halt when I came to the realisation that this album was not at all like their old stuff. This album focuses on less 'rock' songs, rather focusing on popish ballads aimed for commerical radio. Their previous albums were filled with original rock hits. Songs which can be heard over and over again without becoming tedious. I found this album became boring after only listening to
it 3 or 4 times.

I do admit that not all the songs are bad. I love 'Gives You Hell' but this song could have been majorly improved by having a stronger bass line and a louder/harder so
u
nding drum. I even tried remixing the song so it could have a stronger beat and it does make a significant difference (for the better).

Other stand outs would be 'Sunshine' and 'Another Heart Calls'.

I'm giving this album 3/5 and I really pray that their next album is like their first debut album.

Also, the video for 'Gives You Hell' is funny. Well I thought it was funny; maybe it is just because Tyson Ritter is majorly cute when he acts nerdy haha.